From Engine Block Cylinder Bore Systems to Engine Valve Systems, we can handle your requirements!
State of the art technology, capable of inspecting most parameters of engine valves.
GIT offers the most innovative and advanced technologies for today's demanding inspection requirements.
Aware of the idea that "Customer needs drives design," GIT never limits itself to traditional methods. We continue to design and seek out the best technologies to fulfill our customer requirement. Our engineers, who are continuing to pursue this goals, have expertise in a wide array of dimensional inspection, vision inspection, single displacement/2D/3D laser inspection, weight classification, precision mechanical, air bearing driven systems and dynamic torque/load/velocity inspection systems.
Air Gauge Measurement Systems
Air gaging is one of GIT's core measurement technologies. We have developed a two-master, back-pressure bleed system which is the most accurate air gaging method to date. Specific information about the history of air gaging, how it works, the various systems, and our wide range of tooling may be found in our catalog which you can download or view right now from this page.
Because of the particular method with which the signal is processed, it is possible to obtain highly reliable and precise measuring solutions. Air gauging technology is sometimes more suitable for gauging mechanical components otherwise not easily reachable (i.e. deep holes with a small diameter). The physical laws that regulate this phenomenon ensure accuracy and repeatability on all the measuring range. The GIT air to electronic converter is extremely flexible and ensures complete adaptability to a wide range of applications.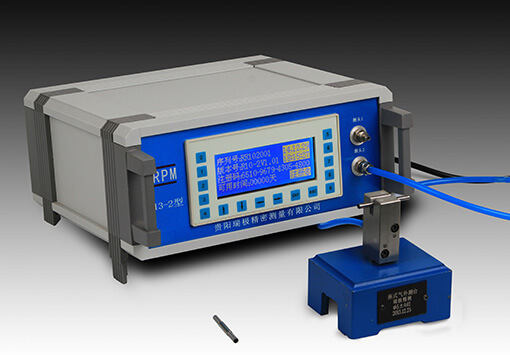 Engine Block Cylinder Bore & Crank Bore Gauge System
AUTOMATIC EQUIPMENT FOR NON-DESTRUCTIVE TEST OF SURFACE DEFECTS AND DIMENSIONAL CHECK. The manufacturing process of cylinder bores of automobile engines can often cause the formation of porosity (resulting from fusion in aluminum or cast-iron cylinder bores) or cracks in steel cylinder liners. The need of both a Non-Destructive inspection to detect superficial defects as well as the typical dimensional controls has driven the integration of Eddy Current and pneumatic technology in a single plug.
The adopted solution, includes two ND probes (opposing each other at 180°) and two or four pneumatic jets (opposing each other at 90°). This allows, in only one cycle, to inspect:
Surface defects such as porosity and cracks
With this solution GIT confirms once more its commitment to the improvement in quality control techniques for the production environment. The advantages resulting from the integrated ND and pneumatic technologies are significant
Automatic Engine Valve Inspection Machine
Production Introduction: Engine Valve Inspection, Several measurements with an all-in-one solution.
High technology as a standard. Its unique design gives direct access to the piece, ensuring practical loading for both small and large components. Wide measuring area 300×60 mm in a practical and compact optical measuring machine for turned parts.
This inspection platform is capable of inspecting most parameters of engine valves. State of the art technology are inspected for the following items using analog, digital, laser, video, ultrasonic and eddie current equipment:
Maximum Face to Stem Run Out
Head Diameter Current Equipment
Laser Marker System
Industrial coding and marking using laser systems has an essential advantage: it does not require consumables and virtually maintenance-free. Laser systems lend themselves to all types of marking on organic materials and plastics, glass, anodized aluminum, metals and color removal on any surfaces.
Engine Valve Washing System
The Engine valve cleaning machine comes with 4 Stage aqueous Cleaning System using detergent chemical as aqueous solvent. Following is the plant data and the process description.
Pre Cleaning Tank
The components cleaned in this stage are subjected to hot dip of solvent at around 70 deg C temp, aiding the removal of most of the oil and also a coarse cleaning is achieved in this stage. An flood wash is given by returning the detergent chemicals through an eductor. The components are dunked to get a better impingement and dissolution of oil.
Rinsing
Process description: This is the repeat of the earlier process to achieve a fine cleaning of the components with an aqueous detergent chemical. The solvent is filtered by a fine filter of 10microns.
Soak Cleaning
Process description: This is the repeat of the earlier process to achieve a fine cleaning of the components with an aqueous detergent chemical. The solvent is filtered by a fine filter of 10microns.
Drying
The components are dried in this station by a blast of hot air at around 100 deg.